The Diversity Scholarship
The University's diversity scholarship is awarded annually to a thesis project at the undergraduate level (lowest specialization level G2E) or advanced level which particularly distinguishes itself in the theme of diversity.
The thesis project must have been completed and examined at the University of Skövde during the previous spring or autumn semester and must have a consistent theme and structure (background, purpose, problem formulation method, results and conclusion) with a clear connection to the area of diversity / equal conditions based on one or more of the recognized grounds for discrimination.
Diversity as theme
The theme of diversity can include many different aspects, but special consideration is given to subject areas that are linked to ethnicity, gender, gender identity or gender expression, sexual orientation, religion or other belief, age and disability.
Application deadline
The application must be received by the University of Skövde no later than 15 February. The scholarship holder will be notified in the spring and the award ceremony will take place in May. Applications may be submitted at any time during the year.
Assessment criteria
The essay is evaluated on the basis of three criteria:
Originality and creativity
Relevance of the essay topic towards the development of society
Importance and scale of impact
How to apply for the diversity scholarship
Applications must include the following:
Justification for why the scholarship should be received. (max 200 words)
Brief summary of the degree project (background, purpose, problem formulation method, results and conclusion). Max 2 - 4 pages (A4 format)
Thesis project
Grade/Points Sheet (showing that the thesis has received a passing grade)
Subject coordinator's assessment Initial registration is completed using the form on this page. Documents listed above should be emailed to studentservice@his.se.
Applications may also be submitted by mailing the completed form and all documents listed above to:
University of Skövde
Students Affairs Office
House E, 2nd floor
Box 408
541 28 Skövde
The application must be received by the University of Skövde no later than 15 February
Published: 9/7/2022
Contact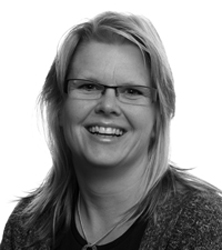 Human Resource Specialist
Human Resources Office