Studentportalen - Version 1.0
The University of Skövde has now connected to the new Ladok system, which means it is time to release the first version of Studentportalen!
So, what is new? You may of course still view your courses and programmes, sign up for examinations and much more. We would however like to highlight a few services that are either new or works in a different way than they used to.
Responsive design
Studentportalen should be functional regardless of device, e.g. smartphone or tablet.
Personal schedule
Today's schedule can be found on the starting page. View the whole schedule either by expanding My studies in the main menu or by pressing View the entire schedule.
The schedule shows all reservations made within your registered courses. Programme students will only see reservations where the programme is included in the reservation, in addition to other programme activities (meetings etc.).
Notifications
We want to quickly be able to provide you with information concerning you and your studies. Notifications (the bell in the main menu) indicate when...
you have an education instance (e.g. course) to register for
you have a written examination to sign up for
you have a course evaluation to submit
you have received results or final grade
contact information has not been entered
Results overview
How many registered credits have I completed? And how many credits did I finish last semester? Which courses did I not complete?
If you regularly ask yourself these kinds of questions, we hope that the results overview available under My studies can provide a quick and clear answer!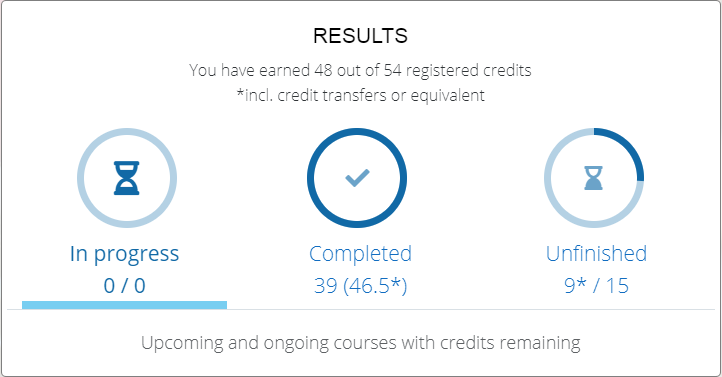 Search function
Though the content is limited at the time of writing, it is still possible to search for information in Studentportalen. We are hard at work re-structuring and moving content aimed for students from his.se so you may find what you need directly in Studentportalen.
Delimitations
In the first version a couple of priorities and delimitations were necessary, mainly regarding the following services:
Course registration
Launches before spring 2019. Contact admission@his.se if you need to register for courses during the autumn semester 2018.
Certificates
No service in Studentportalen, but may be retrieved through Ladoks student interface.
Degree certificate
No service in Studentportalen, but may be retrieved through Ladoks student interface.
Course evaluation
No overview page containing all your conducted course evaluations. You will still receive course survey links through e-mail and notification, and may view the compiled result of an evaluation on the course pages under My studies.
Schedule settings
It is currently not possible to filter certain courses/programmes, add admitted courses, or view course reservations where your programme is not included (complete schedule). You may however view complete course schedules on the course pages under My studies.
Contact form
No contact form or entry page for support in the first version. You will find contact information at the bottom of Studentportalen (in the footer).
Published: 11/5/2018